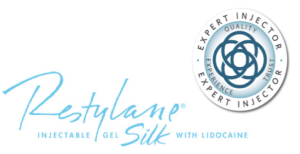 Depending on a patient's specific need, Dr. Lisa Bunin will choose among a variety of Restylane® products to enhance or correct visible imperfections of the lips for patients who want to improve the appearance of their lips and bring back their youthful, full appearance. These products include Resylane-Lyft®, Restylane® Refyne and Defyne, and Restylane® Silk. Sometimes Dr. Bunin will also use Juvederm® to maximize results.
Additionally, Dr. Bunin was chosen by the makers of Restylane® Silk to become a certified injector. These credentials certify that she is an expert in the correct injection method and will also be training other physicians in how to inject to achieve the best results. Learn more+
---
Patient 1




---
Patient 2

This young woman came to Dr. Bunin wanting very full lips and had already had her lips filled once. Because she had a very short distance between her nose and upper lip, filling the upper lip would look out of balance. I explained about facial proportions and we decided to give her a little filler in her cheek to widen her face and allow for a better proportion when filling her upper lip. She was thrilled with the results and loves her cheeks as well as her lips.
---
Patient 3

This 80 year old patient complained of very uneven lips and loss of her upper lip. Dr. Bunin filled her upper lip and added volume to only the sides of her lower lip to even the lip out and give more balance to her lips.
---
Patient 4

This woman felt her lips were uneven but didn't want full lips or to look "done". Adding a small amount of volume to her lower lip to give it the right proportion to her upper lip, and adding a small amount of volume to her left upper lip evened her lips out and gave her a natural look that "still looks like me".
---
Patient 5


This young woman wanted a full, natural looking lip without wrinkling. This is before and immediately after the procedure.
---
Patient 6


This patient hated how thin her upper lip was and how it seemed to disappear when she smiled. She also had less volume in her left lower lip, causing more of her teeth to show on that side when she smiled and giving her a crooked smile. After her lips are more balanced and she has an even lovely smile with a nice upper lip and more symmetric lower lip.
---
Patient 7


This young woman had had her lips enhanced elsewhere and was unhappy with the unevenness and with the obvious lip roll (or ledge) of the upper lip. She also desired more of a "perfect pout" look. After, her lips are more balanced with no obvious lip roll and they looked soft and natural.
---
Patient 8



The patients shown above were unhappy with the volume around the lip and wanted to diminish the fine wrinkling, but did not want the lip itself inflated. Dr. Bunin used Restlylane Silk around the lip but not in the lip to diminish the lip lines and to reinflate the area where fat and bone loss had occurred. Just by reinflating these areas it stretches the lip out and gives the appearance of a more full, younger lip without actually inflating the lip itself. These two pictures are immediately after the injections.
---
Patient 9

This young patient wanted more fullness and less wrinkled lips and filling in of the slight space that was more noticeable on the upper lip especially on the right side.
---
Patient 10

This woman was unhappy with how fine lines were forming on her upper lip and that her mouth seemed too small. She wanted more fullness and a wider lip that was more in proportion with her face.
---
Patient 11


This patient wanted more fullness and balance. Normally the upper lip should be slightly smaller than the lower lip and her upper lip was larger. In the immediate after picture her lips are more balanced full and natural looking.
---
Patient 12

Dr. Bunin placed Restylane® Silk around the lip line to re-inflate deflated perioral lip pockets. NOT placed in lip. Notice how lips look fuller because perioral area is re-inflated!
---
Patient 13


This young woman did not like how her upper lip flattened out when she smiled and wanted more full lips. Afterwards, her lips are more balanced and full and she loves her smile!
---
Patient 14


This young girl did not like the way her lips looked so she had them enhanced to better compliment her other features.
---
Patient 15


Results immediately after filling the area around the lip and a small amount into the lips.
---
Patient 16
 
This patient hated the lines above her upper lip and wanted a conservative increase in volume and a more symmetric lip. Restylane was used in the lip line, around the lips, and a small amount was used to smooth out and even up the upper and lower lip for better proportion and a more natural look.
---
Patient 17

This young patient wanted very large "Hollywood" lips and a more balanced pair of lips. Before, her upper lip is larger than her lower lip and not in proportion. Afterwards, her lips are in proportion and quite plumped.
---
Patient 18


Dr. Bunin injected Restyane® Silk into this patient's lips and lip line to add fullness. She also added volume to her chin and cheek area to balance out her face.
---
Patient 19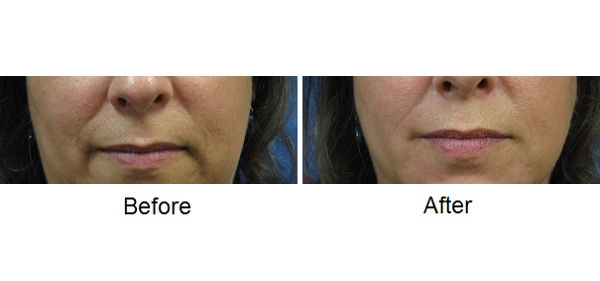 This patient had her chin marionettes and oral commisures filled with Restylane Lyft.
---
Patient 20

This older woman had significant loss of her upper lip and didn't like the lines at the corners of her mouth. She had had a little filler placed in the past, which had resolved, and now wanted more. Dr. Bunin filled her upper lip, created a nicer cupid bow and created a philtrum (lines between the Cupid's bow and the nose), filled in the sides of the lower lip to give fullness and balance, and used a thicker dermal filler for the marionette lines from the corners of her mouth to her jaw. Afterwards, she looks great and proportioned, and has reason to smile!
---
Patient 21

A beautiful young woman wanted more fullness and plumping of her lips. Using only topical anesthesia and  Dr. Bunin's long needle, minimal poke technique, here she is immediately after with no bruising. She had minimal swelling afterwards because of fewer pokes, and is very happy.
---
Patient 22


This young woman wanted more even and slightly "fuller" lips, but was afraid of being overdone. (no duck lips!). Dr. Bunin put more volume in the outer parts of her lower lip, right side greater than left, and gently enhanced the upper lip to give proportion and balance that looks natural and youthful.