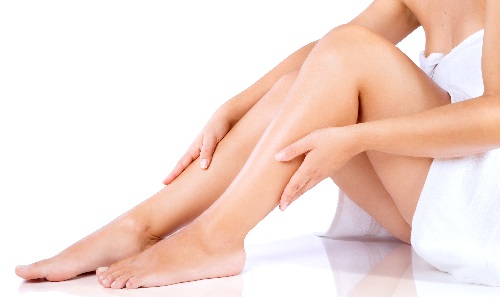 The Spectrum Laser hair removal system is the most advanced FDA approved laser technology for the removal of unwanted facial and body hair today. Laser hair removal is an attractive option for people suffering from unwanted hair and is a great alternative to shaving, waxing, hair removal creams, and plucking. The best part is that laser hair removal is safe, fast and causes much less irritation.
The Spectrum Laser hair removal system was designed to treat virtually any area of your body.  Unlike waxing and electrolysis, the Spectrum Laser is hassle-free! With this safe and effective system of hair removal, you will experience little to no patient down time, after your same day treatment. Call Dr. Lisa Bunin, M.D. at 610-435-5333 to get started today!
View Before & After Photos
Candidates for Spectrum Laser Hair Removal
Generally, if your skin is light and your hair is dark and coarse, you are the ideal candidate. If your skin is dark, then the laser settings will be adjusted to protect the skin's surface. If your hair is light, it may take more treatments because the lighter pigment in your hair will take longer to respond.
About the Procedure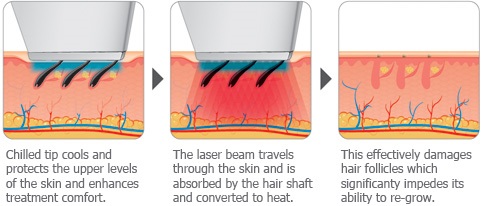 In order to slow hair growth, laser hair removal treatments damage individual hair follicles. The Spectrum Diode Laser emits intense beams of light which safely pass through the epidermis to the hair follicle where selective photothermolysis takes place to disrupt the hair without harming the surrounding skin. Although you may experience a little bit of discomfort while you are getting a laser hair removal treatment, that can be minimized with a topical anesthetic. Most patients experience mild pinching of the skin as the laser  moves over the hair. The number of treatments required vary from patient to patient, based on the cycle of hair growth patterns and ethnicity. Normally, 6 to 12 sessions (a few weeks apart) can be expected in order to achieve the desired result. each treatment could take only 4 minutes, or more than an hour, depending on the size of the area. For example, the treatment of an upper lip or chin will be faster than a back.
Aftercare and Recovery
You may notice some redness and swelling after you get your procedure, but this should be minimal and  will usually go away within a few hours. You can reduce the discomfort by applying Aloe Vera to the treated area. Because laser hair removal is not a cosmetic surgery procedure, you do not need to do anything special to prepare for this procedure, but you will need to avoid the sun for a few weeks before your procedure. Excessive sun exposure can tan your skin, and if you get a tan, then you will have a greater risk of developing unpleasant side effects. Additionally, you will need to avoid waxing, plucking or using electrolysis before you get laser hair removal.
---
Dr. Lisa S. Bunin is located in Allentown, PA and cares for patients from Bethlehem, Lehighton, Strousburg, Washington, Souderton, Warrington, Clinton and others. If you would like more information about Laser Hair Removal call 610-435-5333 and schedule a consultation. Be the best you can be and live a full life – there is no reason to wait!