Facial Fillers & Injectables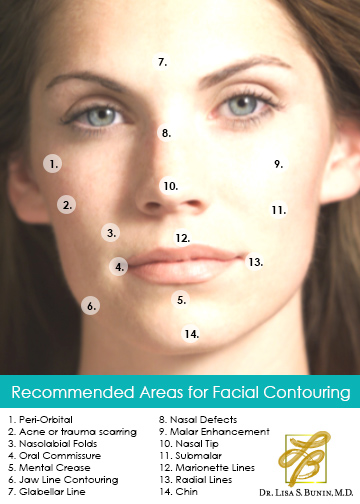 What Are Facial Fillers and Injectables?
There is a lot of confusion about the different injectables on the market and exactly how they should be used. The information below should help you to understand the difference between Botox® Cosmetic and Dysport® as compared to dermal fillers such as Radiesse®, Juvéderm®, Restylane®, and Restylane® Lyft.
Dermal Fillers
A facial filler or dermal filler is used to instantly fill and plump the skin making it smooth and wrinkle free. While the results are not permanent, they are among the most significant of treatments to regain a youthful appearance without having to undergo surgery.
Fillers are most commonly used to add volume  in around the mouth area, the lines that run straight downwards from the corners of the mouth often referred to as marionette lines. Dr. Bunin also recommends fillers for facial contouring as indicated in the illustration to the left.
View Before & After Photos
To learn more about facial fillers and injectables offered by Dr. Bunin and her staff, click on the links below: