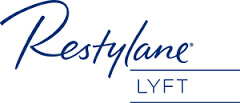 Restylane® Lyft, (formerly Perlane®), is a dermal filler designed specifically for cheek augmentation and other cheek enhancement procedures. By using this filler, it is possible to reduce the appearance of smile lines while also filling out hollow cheekbones. While these are the most common uses approved by the FDA, the treatment has also been used along the jawline and temples.
View Before & After Photos
Candidates for Restylane Lyft
Because Restylane® Lyft uses hyaluronic acid, there are few restrictions. Hyaluronic acid occurs naturally in the body, which limits any adverse reactions. In fact, patients do not even need a skin test to check for reactions prior to receiving injections. Right now, this cosmetic procedure is approved for cheek augmentation and smile lines. Therefore, individuals who have cosmetic concerns about those areas would greatly benefit from using Restylane® Lyft.
About the Procedure
During the procedure, Dr. Bunin will inject Restylane® Lyft into the fat pads beneath the skin to provide optimal lift and a natural appearance. Exact injection sites may vary from patient to patient depending on the specific contours of the face and the desired end look. The key difference with this particular dermal filler is that it is injected deeper and uses bigger particles. This is why it can achieve a more subtle and natural look. Typically, Restylane® Lyft treatments take about 15 to 30 minutes with immediate results and may be used alone or in conjunction with other injectable fillers.
How Long Does Restylane® Lyft Last?
Almost all patients who receive Restylane® Lyft will still see noticeable results six months after the initial procedure. For most patients, the effects will last one year to 18 months. Ongoing treatment can lead to longer, more pronounced results for superior long term benefits. While these are normal results, it is important to remember that results will vary from patient to patient.
Aftercare and Recovery
Restylane® Lyft does not require downtime, but you may experience mild swelling, redness, and discomfort at the injection site. These symptoms should resolve within a few days. Restylane® Lyft treatments last four to eight months.
---
The practice of Dr. Lisa S. Bunin is located in Allentown, PA and provides cosmetic services to patients from Bethlehem, Lehighton, Strousburg, Washington, Souderton, Warrington, Clinton and others.