Obagi Skin Care Products
To truly rejuvenate the skin, one needs prescription strength products and a carefully tailored medical skin regimen.  Obagi is one of the most recognized names globally in skin health care and the preferred choice of physicians around the world for prescription-strength products that can transform your skin to a healthy and glowing state. Dr. Bunin carries a complete line of Obagi products at her office located in Allentown, PA. Learn more+
---
Obagi Nu-Derm™ System
Clinically proven to help correct and improve signs of skin aging, Obagi Nu-Derm™
System is the #1 physician-dispensed skin care system. Transform your complexion to a new beautiful, clear and healthy looking condition.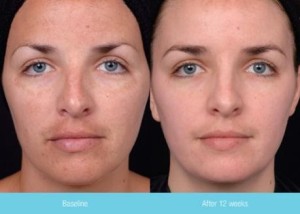 Daily sun exposure can cause discoloration of skin and contribute to early aging of the skin. The Obagi Nu-Derm™ System can transform your skin from the inside out by turning over the old damaged cells and replacing with new healthy cells. Obagi Nu-Derm™ system should be used in conjunction with tretinoin which is clinically roven to help address the signs of aging in all skin types.
---
Obagi-C® Rx System
If you have fine lines and wrinkles, mild to moderate unevenness of skin tone, age spots or sun damaged skin then Obagi-C® Rx System is made to help you regain your youthful skin.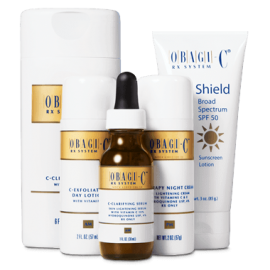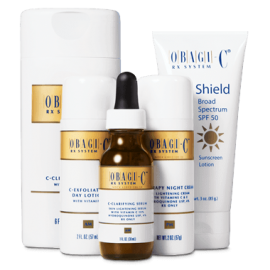 Obagi-C® Rx Systems is good for all skin types, oily, dry and normal. Recommended products used in a combination include C-Cleansing Gel, C-Clarifying Serum, C-Exfoliating Day Lotion, Sun Shield Matte Broad Spectrum SPF 50, and C-Therapy Night Cream.
The Obagi-C® Rx System offers the benefits of both prescription-strength 4% hydroquinone and powerful antioxidant Vitamin C to address the signs of skin damage and help restore and maintain younger-looking skin. With Obagi-C® Rx System you can return your skin to s softer, smoother, radiant, and more even skin.
During your skin consultation, Dr. Bunin's staff will select the right products for your particular skin's needs. If you have hyperpigmented skin, Obagi-C® Rx System will probably be the recommendation. All of the Obagi skin care products are available for purchase at Dr. Lisa Bunin's office located in Allentown, PA which is conveniently located for those living in cities of Eastern Pennsylvania such as Pottsville, Reading, Stroudsburg, Hazelton, Lebanon, Lancaster, Altoona, Lewisburg, Williamsport and others. Call and schedule your skin consultation at 610-435-5333.
---
Obagi-C® Rx System Before & After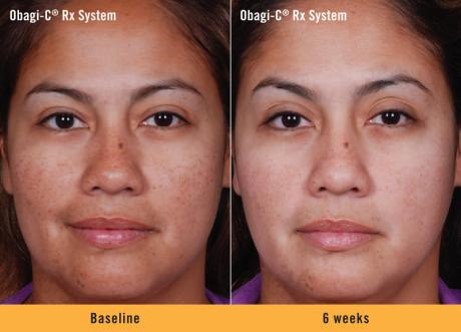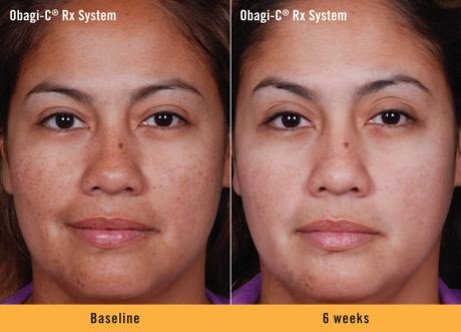 Obagi-C® Rx System offers a complete skin care regimen that addresses early signs of aging and skin damage. This patient had breakouts and skin damage caused from excessive sun exposure. After 6 weeks of treatment, patient's skin has become smooth and clear.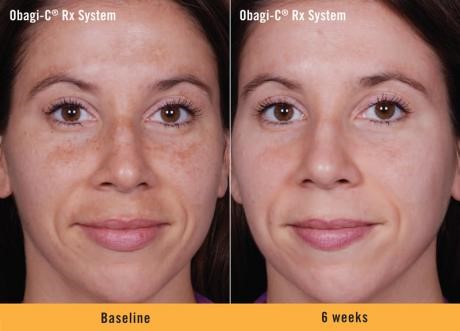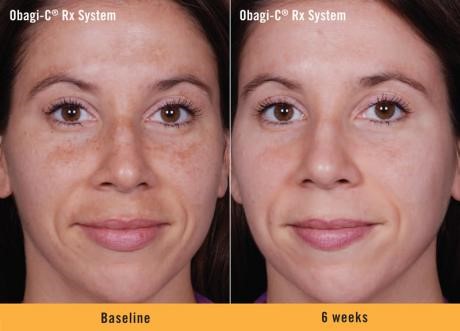 Patient had discolored skin pigmentation on forehead, upper lip, nose and cheek area. After 6 weeks of Obagi-C® Rx System, her skin has returned to a balanced, smooth, and even-tone. The hyperpigmentation has cleared dramatically.
---
Obagi CLENZIDERM M.D. System for Acne Prone Skin
This is a system designed to correct acne prone skin. The skin care system includes a unique formulation of active ingredients benzoyl peroxide (BPO) and salicylic acid, that penetrate into the skin and target acne where it starts. The female below patient who suffered with acne breakouts followed a three step regimen of Daily Care Cream Cleanser, Therapeutic Lotion and Therapeutic Moisturizer.